Christmas in Corbridge is simply not to be missed.
There's even more sparkle and good cheer for 2017 with some festive dates for your diary:
Friday Dec 1 to Mon Dec 4 inclusive: The wonderful Christmas Tree Festival inside St Andrew's Church which attracts thousands of people from all over the UK…and the rest of the world. Open until 9pm on Monday!
Monday Dec 4 from 6pm to 9pm: Our very popular Late Night Shopping festive evening with carol singing, brass band, festive steel pan band, street food, market stalls and much more.
Our acclaimed shops and cafes will, of course, be open on Monday night as part of the event along with our superb pubs and restaurants.
While you can find Santa in Reflections Hair and Beauty that evening.
Be sure to take a walk around the entire centre of the village to see everything – The Coigns / Middle Street / Market Place / Watling Street / Hill Street and so on.
The free car park on the south side of the bridge will be open as usual for our Late Night Festive Evening.
And with thanks to Tynedale Rugby Club there will also be a free park and ride service from just along the road in Tynedale Park.
A free non-stopping shuttle bus will run from there to and from Market Place from 5:30pm with the last service returning to Tynedale Park at 9pm.
See how the village is looking this Christmas at the photo gallery here.
With photos of the 2017 Corbridge Christmas Tree Festival – including all 85 trees – here.
We've also just been named the No 1 village for Christmas shopping in the December 2017 edition of BBC Countryfile magazine. Click here for more on that.
Watch the short video below for more!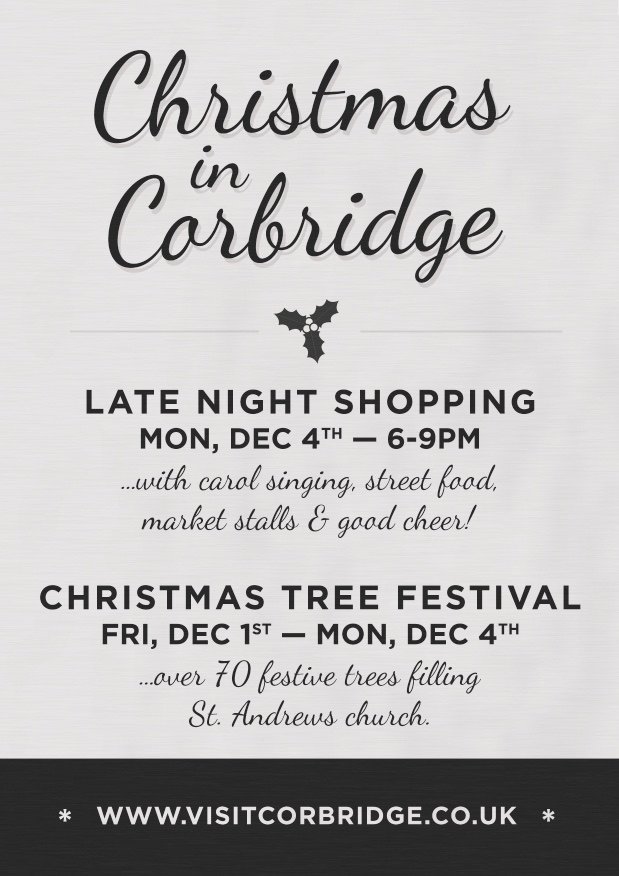 And check out the video below for how it all looked last year.
Along with a few photos from Christmas in Corbridge 2016.
Click on an individual image to the right to enlarge and also open up a slideshow view.